Mac to Mac remote control
You can remote control Power Prompter from another Mac which runs Power Prompter (including PP Express). To do so make sure both Macs are on the same LAN (either Wifi or ethernet) and open the the remote control window via File
New Remote Control.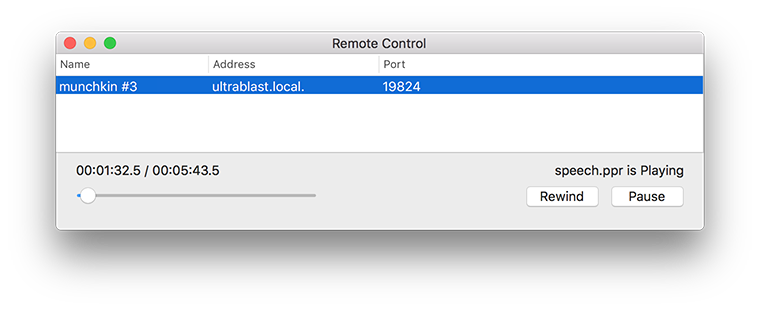 In the central list you can see all available local network instances of Power Prompter. Click on an entry in the list and you will be connected to the running Power Prompter instance.
The slider to the left lets you adjust scroll speed and the two buttons to the right fulfill "rewind" and "play/pause" functions.
There's a status label above those two buttons which displays the current document name and its prompting status.
Fixing Mac to Mac Issues
For remote control to work both devices (controller and controlled) need to be on the same local network. Usually this is the case when both devices are using the same WiFi network. But if your teleprompter Mac connects via Ethernet (wire) to the network and your remote control device uses WiFi you need to make sure that both devices are on the same local subnet.
Further make sure Bonjour (zeroconf, mdns) services are not filtered on the network and that UDP port 19824 is not blocked by your firewall on the Mac which is about to be controlled.